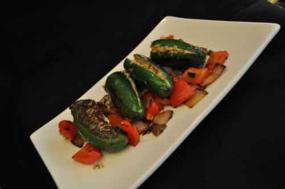 If you're looking for a side dish with a major kick, you've got to try this Sauteed Stuffed Jalapenos recipe. Fresh jalapeno peppers are stuffed...
A lot of time we find ourselves with a lot of chillies on hand, either we bought them, grew them or just over-estimated what we need! After doing that comes ...
For all the pickle lovers out there….this one is for you!! This "Pickled Jalapenos – Desi Style" recipe is quick and easy to make and...