Pani Puri is one of the most loved Indian street foods or "chaat". The puri (small, round, crispy puffed shells made from semolina) is stuffed w...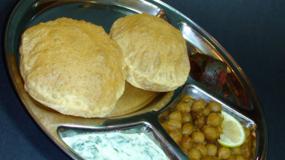 Puris are such a treat to the eyes and to the taste buds. The sight of a well puffed up Puri excites everyone (not just kids). Some great combinations are ...
Bhel Puri is one variety of Indian "street food" known as "Chaat". With a nice balance of flavors, including savory, sweet and spicy,...