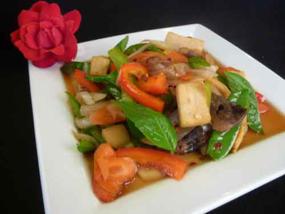 Spicy Thai Basil has such a wonderful flavor with abundance of freshness packed in it. This Thai dish has been our favorite at our local Thai Restaurant and ...
One of the most famous and popular Thai dishes, this Thai Red Curry is easy to make with Chicken or Tofu, a fabulous non-vegetarian or a vegetarian dish. The...
Thai cuisine is near and dear to our hearts! If you have some of the prep work done, like having homemade Thai Red Curry Paste ready and on hand, Thai cooki...