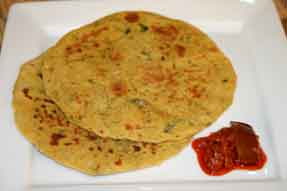 Theplas, another variation of parathas that have a great shelf-life and have an amazing flavor. The yogurt in it makes them soft and the fenugreek makes them...
Muthiya is a very Gujarati thing – it is often served with tea as a snack or is an essential part of a very famous Gujarati dish – Undhiyu. These...
So Gujjus and snacks can never be parted! And we can honestly say, Gujaratis do make the best snacks! This Dhebra is easy and amazing and right from the Sta...